MPS implemented the Lean program in May 2022 to enhance the way it serves customer and to ensure continuous development for employees. This internal training program is aligned with MPS vision and mission. The training program is enabling the company to transform its organisation by promoting a continuous improvement culture that impacts its people, customers, and performance.
Founded on lean principles and practices, MPS is investing in every brain in the organisation by equipping them with world class tools to focus on and solve customers daily challenges through a continuous cycle of changed mindset and improvement.
So far 221 staff members have been trained for level 1 (Lean Onboarding) while 23 persons have been trained for the level 2- Lean Practitioner Preparation stage. The training sessions involved course modules centred on the detailed Problem-solving process, Visual Management -Daily Management and its application in their respective job fields. It is expected that the next sessions of training will enable a lot more of the staff become acquainted with the Lean Approach.
LEAN EFFECT
MPS Lean trainees are expected to take the lead in introducing innovative solutions to terminal operations with the goal of improving efficiency and customer service. The company through this is transforming by re-tooling and re-educating employees to eliminate waste, boost productivity, and daily promote innovation.
Based on the skills transfer from the Safety Quality Delivery & Customer (SQDC) bootcamp and Daily Management (DM) meeting boards in level 2, the Operations Department and Asset Maintenance Departments are implementing the SQDC boards for shift change. The approach will enhance team alignment between shifts as gaps are identified at their smaller stages and solved before they become bigger gaps.
Presenting the certificates to signify the end of their training for the level 2, the CEO of MPS, Mr. Mohamed Samara said.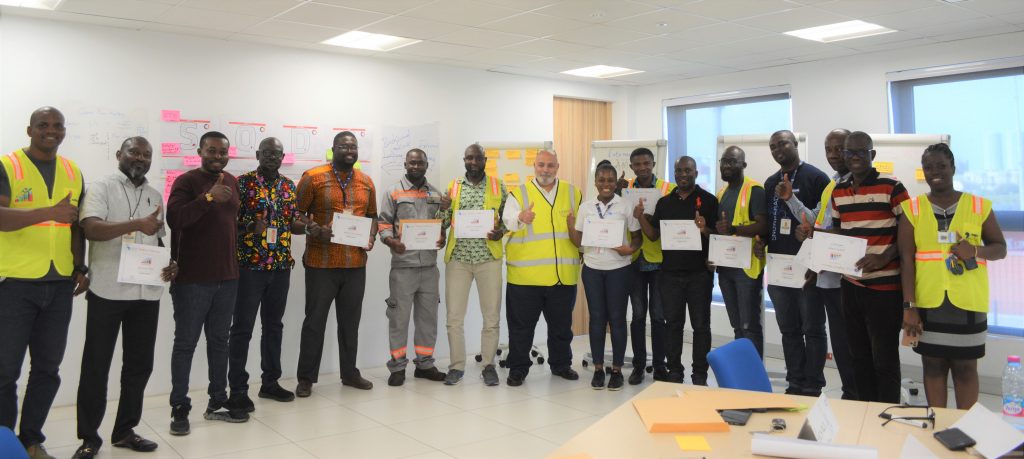 "The bottom line is to deliver the highest value to our customers through the identifying and fixing all bottlenecks in our operational process. I am proud of your commitment and the commitment of the whole team towards this cause. the skills that you acquire from the training is not just to assist you put our best at work but also it can be applied anywhere- in our homes and wherever we find ourselves for efficiency."
Sharing their reflections on the course, all the participants from the different departments and levels within the company opined that they had through the training identified key areas that needed the application of the lean tools to further improve their way of working.