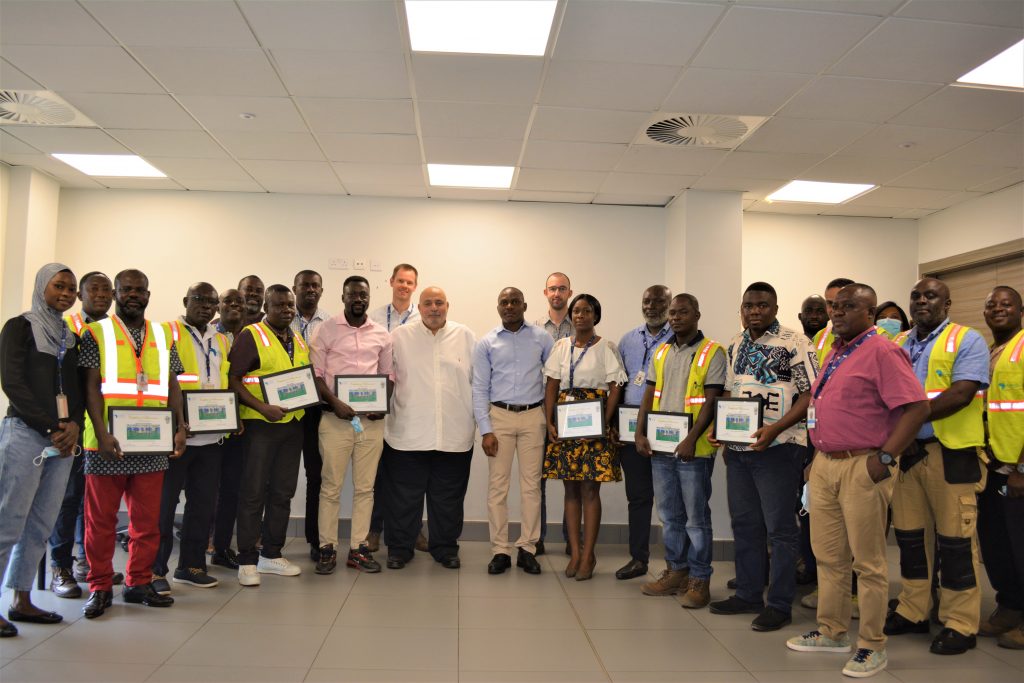 MPS held its last Quarterly Employee Performance Ceremony for 2021 on 24th January 2022.
Eight employees were recognized for superior job performance and dedication to their roles. Selections were based on a quarterly review of their respective productivity level, leadership drive and commitment amongst other qualities for the period and submitted by the heads of department. Each employee had a testimonial detailing what they had exhibited to merit the recognition.
Present at the ceremony were management heads from the various Departments including IT, Operations, Q-HSE, Asset Maintenance and a representative of Meridian Logistics and Engineering, a trucking company whose employee was also awarded as the best performing truck driver.
Chief Operations Officer, Mr. Curtiss Dakpogan and the Operations Manager, Mr Emmanuel Ohene Addo were full of praise for the employees while reminding them of the need to keep up the high-performance levels.
"Each of the employees here have proved their merit, looking at the names presented here by each department, one can testify that indeed they deserve this and more, they are highly dedicated to the roles they are assigned to".
Speaking at a ceremony, the Chief Executive Officer of MPS, Mr. Mohamed Samara inspired them to be ambassadors of safety and high productivity to their colleagues. The CEO emphasised that Q-HSSE remains paramount, and it is our collective duty to ensure that Q-HSSE is fully integrated in everything that we do while we are planning and executing all tasks and jobs. The CEO also recapitulated that;
"The shareholders have equipped us with what is considered necessary to deliver world class services in terms in of financing, engineering, procuring, and constructing the requisite infrastructure, superstructure, sophisticated equipment, backed by cutting edge technology and training; therefore, we are expected to deliver high performance. Today we are recognising 8 members of the MPS team for their excellent performance, and I am sure we all recognise that delivering the best performance is a journey (not a destination)."
The eight honoured colleagues were encouraged to "pull along" all the average performers to boost the overall average performance of the operations team. Knowing that there is always room for improvement, the expectation for next quarter is to see higher overall-average performance and new super performers.
Over the years MPS has taken keen interest in the motivation of staff through training to upgrade skills as well as other measures to ensure employee satisfaction and wellbeing.
The Performance Awards was instituted as part of these measures to boost employee morale and ensure continuous employee engagement.
John Aidoo – Best STS Operator
John consistently outperformed his peers, STS crane operators, throughout the quarter with zero accident across multiple type of vessels and conditions. As a team member, John has been dependable, always contributing with ideas to improve performance on vessels and readily available to support colleagues with his experience.
Janet Eduah – Best RTG Operator
Janet has topped the RTG operators' population with the best productivity for the Q4 2021 also with Zero accident. Not only has she demonstrated a good command in driving RTGs, but she has also illustrated herself by her constant concern about the overall performance of her shift even when not on duty. Janet being the best RTG operator for this quarter shows again that the port industry, historically dominated by males, can see females thrive and support their personal development.
Emmanuel K. Mensah – Best Reach Stacker S/Empty Handler Operator
It was no surprise to see Emmanuel selected in this category: month after month, he has topped the reach stacker operators in terms of performance. His drive and passion while at work ,actively pushing the control room when he is idle are few characteristics which make him noticeable in his shift.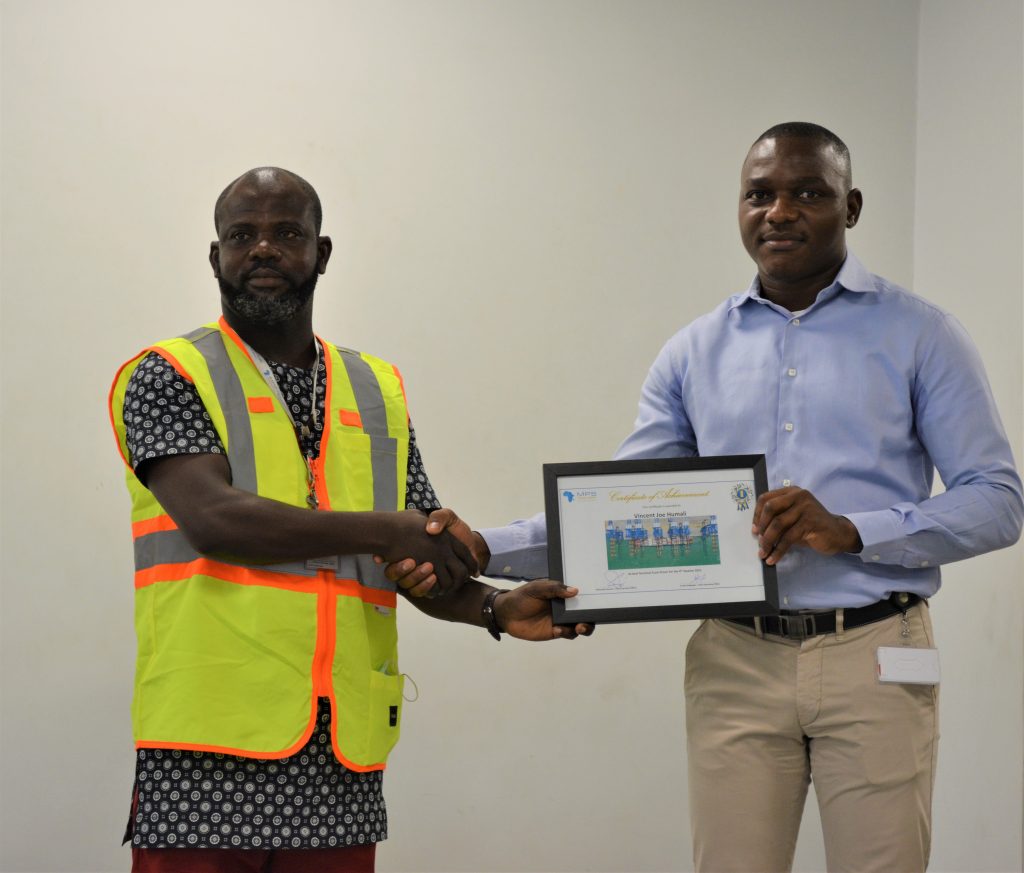 Vincent Joe Humali – Best Terminal Truck Driver
" I do not joke with my work" is a common statement many have heard Vincent make. This denotes of his dedication and commitment to safely drive his terminal truck to and from the the quay. During the last quarter he has singularly handled the highest number of terminal truck moves. Recognising Vincent, an outsourced terminal truck driver from Meridian Logistics Engineering (MLE) denotes of the importance that MPS gives to its subcontractors which are essential in delivering its mission 'We connect, you thrive".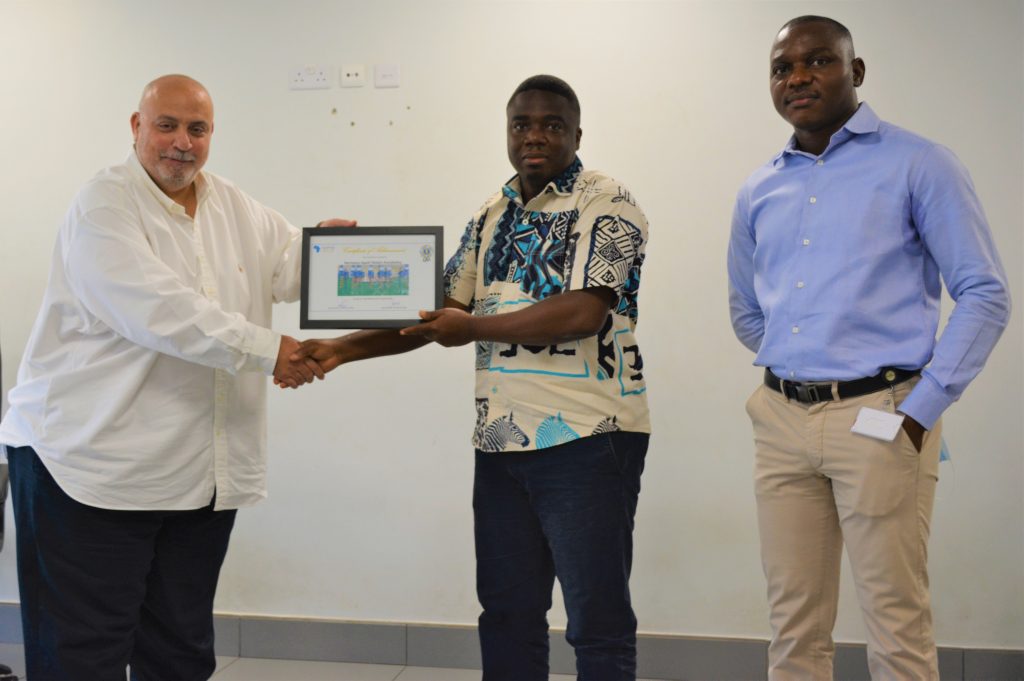 Hermann Kpoti Tetteh – Best IT/TOS Staff
Herman's support was essential in all the preparatory works leading to the major version upgrade of the Terminal Operating System (Navis N4) in October 21 as well as the aftercare period . He has demonstrated complete autonomy and expertise in handling delicate tasks throughout this period. In addition, Hermann showed full dedication in meticulously executing some critical database maintenance activities as well as providing sound professional and timely support during the end of year period (including weekend, Christmas day etc)
Emmanuel Bortey – Best Safety Walk Champion
Emmanuel's commitment to safety cannot go unnoticed. He has illustrated himself by performing a safety walk every time he has been in shift during the quarter: coming up with relevant findings and taking immediate actions as and when needed to correct unsafe acts/conditions.
Dodzi Yibor – Best Asset Maintenance Staff
Dodzi's skills as a carpenter have been proven again and again through the quality of the work that he delivers. His selflessness and versatility make him an excellent team player able to assist and support in areas beyond his traditional domain of expertise with due consideration of safety measures.
Alex Darkwah – Best Vessel Planner
Despite the hectic job of vessel planner in a dynamic environment, Alex has not only been able to deliver good quality work in terms of planning vessel optimally and proactively adjusting vessel sequences during operations as needed to support productivity. He went the extra mile to contribute to the improvement of the quality of the KPIs and dashboards displayed in the control room aiming at enhancing the performance follow up during operations. Alex's command of terminal planning processes is undeniable resulting his being  nicknamed by his colleagues as "General" and certainly the CEO welcomed Alex with a formal military salutation when he approached the podium to receive his award.